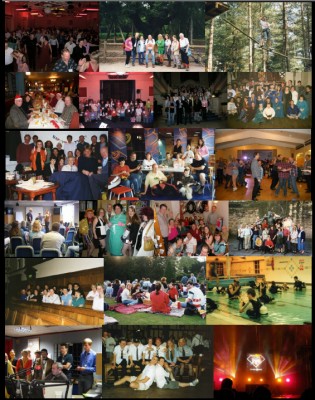 20 photos to mark the 20th anniversary of Maxine as Notts LocSec
Editorial
Welcome to the November edition of Empress.
Nights are longer and days are colder, which means this is the perfect magazine to enjoy reading next to the chimney, sipping a nice cuppa. We are also celebrating Maxine's dedication to Mensa and Mensans with 20 photos of some of the events she has organised in the last 20 years. As in the magazine they are printed quite tiny you better visit our website (www.eastmidsmensa.org.uk ) to fully appreciate the pictures in colour.
Maria Falces
Member's profile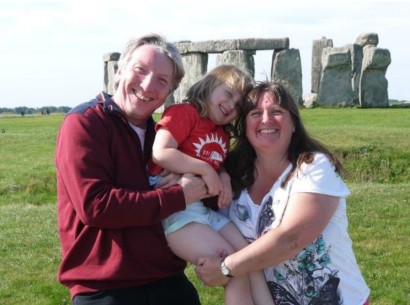 Name:
Rowena Love
Location:
Welwyn, Hertfordshire
When did you join Mensa?
1992
Why did you join?
I knew there was a social side to the society, so I thought it might be a fun thing to do. Have you attended any events? I haven't just attended them, I've organised them! I was a LocSec in Scotland for many years and organised events there regularly. Also, I was Scottish Officer (Maxine's opposite number in Scotland) for over 10 years until I left Scotland to get married. I've organised several SMAG weekends (Ayr, Glasgow, Edinburgh, Orkney) as well as helping out at BMAG on a number of occasions.
If so, what were they like?
I've attended some fabulous meetings through Mensa, from flying a helicopter, a glider and a microlight to dinner at the Houses of Parliament. I've driven a tank and taken a double decker bus round a skid pan. I've seen behind the scenes of some really weird and wonderful places. I've climbed some of the highest mountains in the UK as a result of my membership. A local member had a connection with a stable so we went on a pub hack where we rode to a nearby pub for a '
stirrup cup
' and back. What I like about Mensa events is that no two are ever the same. Even pub meetings or eating meetings have a different
collection
of people each time. Since moving to Hertfordshire I have hosted a number of events with my family from an Afternoon Tea and a Cheese and Wine to Mulled Mensans (that had over half a dozen different varieties of mulled alcohol, as well as one of the soft variety). The most popular was probably our Sundae Sunday this summer where we had about 20 different flavours of home-made ice cream and sorbets (and more guests than flavours!). We've made friends around the World thanks to our Mensa membership – we frequently have international visitors at our events.
Do you belong to any SIGs? If so, which one(s)?
At the moment, I think I belong to Creative Writers SIG, Poetry SIG, and Competition SIG. I have a bad habit of joining lots and then finding I don't have time to read all the newsletters, so every so often I have a bit of a cull.
Occupation?
Thanks to the typical Mensan low boredom threshold, I have done a number of different jobs, from selling oil paintings door to door, to Cordon Bleu cook. In my current incarnation, I have been a stay at home mum until very recently, when I started work as an Educational Script Writer (part time to fit round school commitments). I am also a writer and poet, whenever possible.
Hobbies/interests?
Writing, Poetry, Photography.
Plus anything else you'd like to share!
I met my husband through Mensa (at one of Maxine's events at CenterParcs). We now have a five year old daughter, Kerensa, who is also in Mensa. Some of you may remember her from the Mensa Magazine cover featuring the baby with the pint of Guinness (taken at IMAG when she was less than a year old).
Regional News
I'm sad to announce the resignation of Nick as one of our Empress Editors due to a change in personal circumstances. For the time being he will remain as our Regional Web Officer. Many thanks for all your years of contribution Nick. So we are now seeking another Editor to join the rota with Lucy and Maria. Desk top publishing knowledge would be useful but not essential as training can be given. Nick was not due to edit again until the May issue so plenty of time to practice! If you are interested in the role or would like further information please get in touch with Regional Publications Officer, Keith Brough on kgbrough@outlook.com
We are also still seeking Local Secretaries for Derby and Northampton. Please get in touch with myself for an informal chat if you may be interested in either of these roles. In fact if you'd like to get more involved in Mensa in general we can always find you something to do. It's definitely a case of the more you put in the more you get out of the society. This month I'm celebrating my 20th anniversary as Nottingham LocSec so what better recommendation!?
I recognise quite a few names in the birthday list this month. Happy birthday to those celebrating. Do you have any thoughts on our special (those ending with 0) birthdays that appear in Empress? We don't mention ages, dates or exact addresses but hopefully the birthday greetings give our newsletter a friendly feel. It's a pleasure to put the list together and I and the Editors would welcome feedback on it if you have any.
I'm on [Phone Number] or [Email]
Maxine Bates
Regional Officer
Regional Events
Please send your meeting announcements to Mark Sloan, either by snail-mail to 7, The Hollow, Castle Donington, Derby, DE74 2PA or by e-mail to [Email], to arrive no later than three days before the press date stated on last page of the magazine. Join our Facebook group by searching for "East Midlands Mensa" or subscribe to our Yahoo email group by sending a blank email to m-eastmidlands-subscribe@yahoogroups.com. Also see our web site. See the main magazine for further details.
Events and Meetings
In the current circumstances surrounding the COVID-19 coronavirus, the expectation is that all events listed here are likely to be cancelled, if not already marked as such. If you intend participating in any event listed here, please contact the event organiser beforehand to confirm that the event is still on.

Luton Leisure
On Tue 3rd Nov at 7:30pm - FTuOTM
At the 'Brache' Beefeater, Osborne Road, opposite the Vauxhall Design Building. There is parking on site. Come along for a drink and a chat, or just the chat. Food is available at the bar or in the restaurant from the same menu. New faces will be welcome to join our group. Contact Bob for directions or more details.
Bob Ford
Contact [Email] or [Mobile Number] for details
Derby Diary
On Wed 18th Nov at 7.30pm - 3WOTM
From 7.30pm on Wednesday 18th we'll be at the Standing Order (Wetherspoon) on Irongate in the city centre. Look for a yellow Mblem on a long table in the rear section of the pub. Arrive and leave whenever you like and join us for food or just a drink.
Advance Notice: We have booked the Derby Mensa Christmas meal for 16th December at the same venue. If you'd like to see the menu and/or book a place please contact Pen on [Email] by 18th November so you can be added to our reservation at the Standing Order. A £3 deposit is required and you can choose from 1, 2 or 3 courses though all options include a drink. Cost from £.7.99.
On Tue 24th Nov at 7.30pm - Eating meeting
Following a restaurant recommendation this month's "eating meeting" takes place at Lotus Lounge, Central Road, Alfreton at 7.30pm on Tuesday 24th. This is an eat-as-much-as-you-like Chinese buffet costing £13.90 per person. See menu at www.lotus-chinese.co.uk and book your place with me by 20th latest please. New faces most welcome.
Maxine Bates
Contact [Email] or [Phone Number] for details

Hertfordshire Happenings
On Thu 5th Nov at 8:00pm - FThOTM
We have decided to change the First Thursday venue again and we areat the Three Magnets, Leys Avenue, Letchworth.
Thursday nights are curry nights but other food (standard Wetherspoons' fare) is available as well. Leys Avenue is the main shopping street in Letchworth and is a few minutes' walk from the station (Kings Cross to Cambridge line). Call me for more details and encouragement.
On Fri 27th Nov at 8:00pm - LFOTM
As always, we're at the Cowper Arms, Digswell, which is by Welwyn North railway station, which is served by trains from Kings Cross to Cambridge and Peterborough. Good food and good beer both available! Call me on [Phone Number] for more details and encouragement.
On Sat 21st Nov at 2:30pm - Games and a Winter Warmer
Rowena and Mark Lawrence would like to invite you to Welwyn on Sat 21 Nov 2:30pm for Games and a Winter Warmer Our German Mensan friends are visiting. They love gaming. Come along to say hello and join us for some unusual board games. Stay on, if you wish, for our evening event. Warming winter drinks (e.g. mulled wine and/or hot chocolate) followed by a spectacular Feuerzangenbowle (flaming rum). Contact us on or [Phone Number] or rowenamlove@gmail.com for details and suggestions on what to bring.
Richard Allen
Contact [Email] or [Phone Number] for details

Lively Lincs
On Sat 7th Nov at 12:05pm - Pub discussion
We will be at our usual venue, 'Adam and Eve' on Lindum Hill, probably in the alcove, look for MBlem. This month's topic: 'Designer babies?'.
On Tue 17th Nov at 7:00pm - Eating meeting
This month's venue is Thai no.1 on the Bailgate. All welcome, but please book with me by 12th if possible, thanks.
Christine Howells
Contact [Email] for details

Mid Bucks
On Sat 14th Nov at 12:30pm - Lunch
At half past twelve on Saturday 14th November we will meet for lunch at Origins at the White Lion on Great Missenden High Street, HP16 0AL. Origins describes itself as both a vibrant wine and cocktail bar serving light international tapas in a sophisticated environment and an oasis of civilization in a busy high street. It is very popular so I will need to book us a table. Please let me know by Friday 6th November if you want to join us.
On Sat 14th Nov at 2:30pm - Artists and Makers Fair
After lunch we will move to the Memorial Hall on the Link Road for the Artists and Makers Fair, admission charge £1.00. This fair is run by Sally Evans events and will feature a number of local artists and craft makers. If you are not coming to lunch first, meet us at 2:30pm at the entrance to the Fair. For further details or encouragement contact me.
Val Hinkins
Contact [Email] or [Phone Number] for details

Mensans in MK & Bedford
On Thu 12th Nov at 7:00pm - Eating meeting
On Thursday 12th at 7pm we'll be in Bedford for a visit to an old favourite, the Sizzling Wok in The Broadway. This is a Mongolian barbecue restaurant where you select your own raw meat, vegetables, spices and them to the chefs to stir-fry for you. It's all-you-can-eat so if you don't get it quite right first time, you can have another go. Please let me know by Sunday 8th if you plan to come, so I can book a table.
On Mon 16th Nov at 8.30pm - 3MOTM and Quiz
Our monthly visit to the Barge in Woolstone for the quiz is on Monday 16th. Meet from 8.30 - the quiz starts at 9pm and costs £1 per person. Look out for the Mblem on a table. Please let me know if you plan to come so I can bag a large enough table.
On Sun 29th Nov at 10:00am - Sunday breakfast
Sunday breakfast will be on 29th at 10am at Carluccio's in the Centre:MK. You will probably find us in one of the red booths just in front of the restaurant – look for the Mblem on a table. Come for a full breakfast, a snack, or just a drink.
We hope to see as many of you as possible at one or other of our events in November. Do remember that you're welcome to bring a guest with you, so if you've never been to a Mensa event and are a little nervous about coming along on your own, just bring a friend.
Just a reminder about our M-MK & Bedford Facebook group – if you would like to join please search for the group and send me a request. I also keep an email distribution list for meeting reminders and any last-minute changes, so if you would like to be added to this please let me know.
Jo Sidebottom
Contact [Email] or [Phone Number] / [Mobile Number] for details

Notts News
On Thu 5th Nov at 7:00pm - 5OTM
Our regular "5th of the month" get together at the Vat & Fiddle pub on Thursday 5th coincides with my 20th anniversary of being Notts LocSec. To celebrate we will have the Goldings Room to ourselves and there will be a free meal for everyone who confirms attendance with me by 29th October. Chosen by some of the regulars from the pub's standard menu, this will be a hot roast beef cob with potatoes and gravy (or quorn sausage cob with vegetarian gravy upon request) followed by a choice of sticky toffee pudding, syrup sponge, strawberry jam sponge or apple and blackberry crumble with ice cream or custard. Note the earlier start time of 7pm for anyone wishing to take up the meal offer! Or you are equally as welcome to join us at any time for just a drink. New and old faces both welcome.
On Thu 12th Nov at 7.30pm - Natter & nosh
On Thursday 12th we return to the Beekeeper on Meadow Lane in Beeston for our "natter & nosh" evening. A variety of conversation and a variety of food - or just a drink if you prefer - are on offer from 7.30pm. The Nottingham Mensa Christmas meal will take place on 10th December at the Beekeeper where 2 courses cost £12.99.
Please let me know if you'd like to see the menu or book a place by 12th November so I can adjust our reservation accordingly. A £5 deposit is required with balance payable on the night.
On Sat 21st Nov at 9:00am - Gymathon
After all the eating earlier in the month you'll need to sign up for our "gymathon" on Saturday 21st! This takes place at Greasley Sports Centre (NG16 3QN) and we'll be attempting to keep a bike, cross-trainer and rower in constant motion from 9am to 9pm. Why not sign up for a 30 min stint and help us raise a little money for Cancer Research UK whilst keeping fit? Last year there was great camaraderie and we raised nearly £1,300. Please contact me for further information. Alternatively sponsorship is most gratefully received: www.justgiving.com/teams/greasleygymathon2015
Advance Notice: It's the Nottingham Mensa Christmas meal on Thurs 10 Dec, 7:30pm at the Beekeeper pub/restaurant in Beeston. £9.99 for 2 courses or £12.99 for 3 courses. Please contact Maxine for menu choices and to reserve your place.
Ciao for now!
Maxine Bates
Contact [Email] or [Phone Number] for details
More or Leicester
On Sun 1st Nov at 7:30pm - Theatre visit
I've been looking for a good opportunity to visit Leicester's tiny theatre above a pub, and the short comedy musical "The Element in the room: A radioactive reflection about the death and life of Marie Curie" on November 1st seems ideal Mensa material to me!! More info is on the theatre's website www.upstairsatthewestern.com, and you can book tickets there so we can meet up in the pub before the performance.
On Thu 26th Nov at 8:00pm - 4ThOTM
Later on in November, and we're back in the pub for our regular fourth Thursday. We'll be in The Cradock Arms from 8:00pm on the 26th, usually tucked into a corner in the lower bit of the pub. Finally, we'll be holding out traditional Christmas Curry night on December 17th at the Mem Saab in Highcross. Places are limited and it's strictly firstcome, first-served so please get your booking to me ASAP. I look forward to seeing you soon!
Advance Notice - Leicester Thurs 17 Dec 7:30pm Christmas Curry Paul Coulson Out now traditional Christmas curry will be taking place at Mem Saab's in Highcross Leicester (www.memsaableics. com). Early booking is absolutely essential, so please let me know ASAP if you're planning to come along!
Paul Coulson
The Brewery Tour by Maxine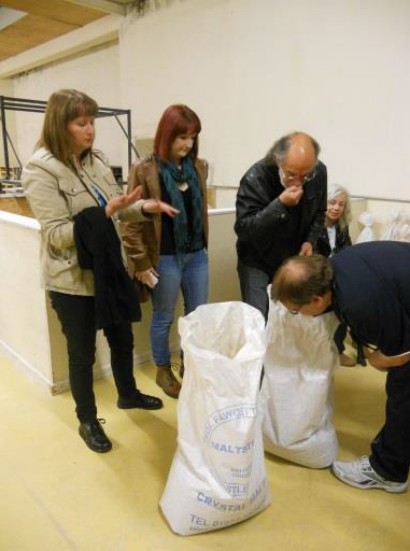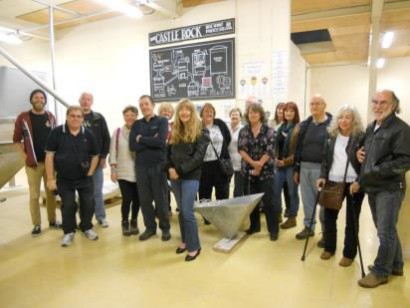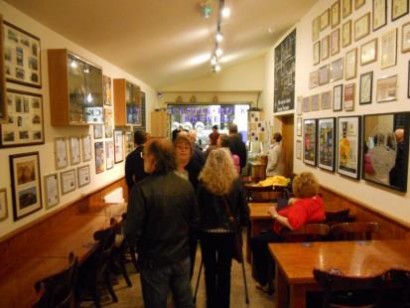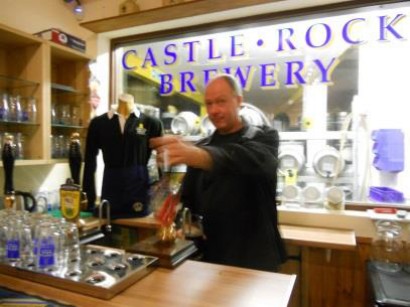 On Saturday 5th September I proved I can organise the proverbial p*ss up in a brewery! The Nottingham Mensa group meet on the 5th of each month in the Vat & Fiddle pub in the city. The pub is adjacent to the Castle Rock Brewery so as our regular event fell on a Saturday night I thought I'd combine it with a brewery tour. Needless to say there was quite a lot of interest with members travelling from as far as Lancashire and Lincolnshire to join us. At 8.00pm 17 of us assembled in the Goldings Room in the pub to meet our guide, with a few other members not wishing to join the tour remaining in the pub for the usual drinking and chatting.
We were shown around the whole brewery whilst having the beer making process explained to us. So we got to see everything from the bags of hops to the bulk tanks to the finished kegs. In fact a little more than the standard tour as it was outside working hours so we were able to walk into areas that are usually out of bounds to visitors.
Over an hour later we were taken into the visitor centre where there are boards showing the brewing process, history of Castle Rock Brewery and price list of all their real ales, along with various photos. But for some the highlight of the event was the chance to pull our own pints behind the special bar in the visitor centre. The cost of the tour was supposed to include three third pint samples. On this occasion Harvest Pale, Red Riding Hood and Sherwood Reserve. However, the guide said goodbye and told us we could remain as a private group in the visitor centre until the pub closed at midnight and we could invite those members who weren't on the tour to join us. It didn't take long to work out this meant we had unlimited access to free beer for the next three hours! So a good night was had by all, although I suspect there were a few sore heads the following morning!
Leicester shooting day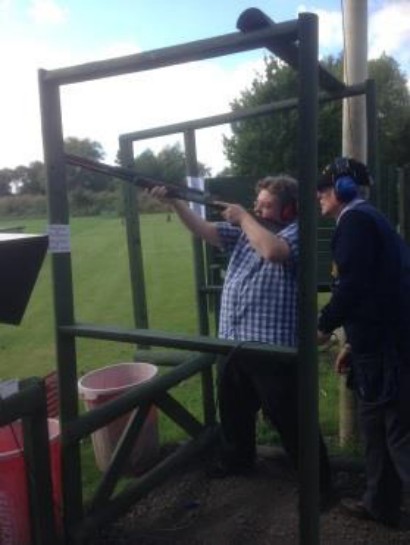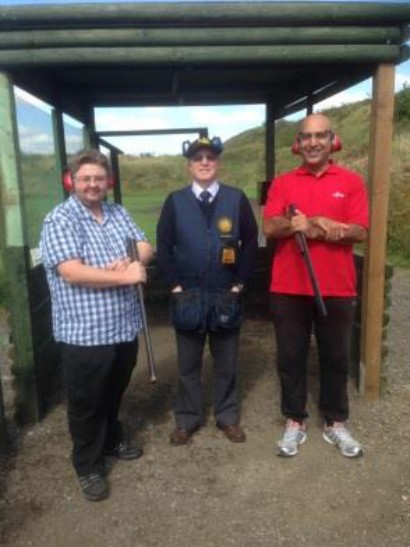 A couple of photos of Leicester Mensa members Mark Wellington and Avtar Singh at the Leicester Mensa shooting day, accompanied by the instructor John.
20 Questions (No. 170)
So how much did you know about nuclear physics in the September competition? The answers were quantum chromodynamics, quark, Niels Bohr, Van Der Waals force, number of protons in the nucleus, James Chadwick, atom, Pions, boron and cadmium, pressurised water reactor, gamma radiation, baryons, Gay-Lussac, hydrogen, Ernest Rutherford, uranium 235, electron, lepton, repel each other and Max Planck. The winner was Michael Warren of Derby.
Thanks to Les Hurst for compiling this month's competition where all the answers contain a town or city, though perhaps in disguise. Send your answers to arrive by 20th November by post to '20 Questions (No. 170)', [Address] or by email to [Email] remembering to include your name and address so we know where to send the £10 book token.
1. Alabama's capital shares its name with a general
2. Restaurant in an American billycock
3. D H Lawrence's personal symbol
4. The fourth president of the USA
5. Australia's first city founded by free men
6. North Caroline got on its bike
7. A north London witch in Alberta
8. Engraved on Mary Tudor's heart
9. A city of mythical judgement
10. The only city to give its name to a dance?
11. Bond actor had root canal work on his jaws?
12. "Hands up, give me your last letter"
13. Aldous Huxley's school bus colour?
14. She who found the True Cross
15. Kidnapped on the River Yangtze
16. A port or a poet's dedicatee
17. James is a Ruff-Diamond
18. This East Midlands town ended slavery in Britain
19. In Libya, Lebanon and which third place?
20. Ruined city is great, its country is not