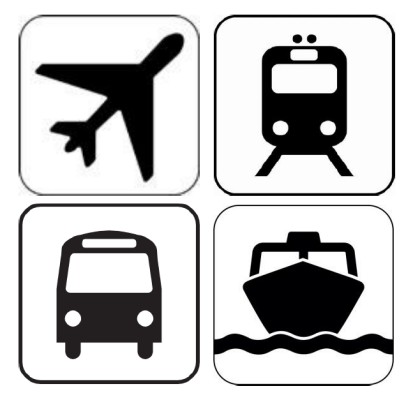 Love to travel? Read about Travel SIG below
Regional News
Hot on the heels of our "panto & party", we have another regional event for you. This time moving from the far south of our region to the north. Venue is Greasley Parish Hall (NG16 3QN) which is easily accessible from M1 J26 and was the venue for our gathering in 2009 that attracted over 100 guests. There is no accommodation attached to the venue though there are various B&Bs or hotels in the vicinity. So, put Saturday 7th March in your diary and come on down to our barn dance with supper included. No previous dance experience necessary as we will be taught all the steps by the Lonely Mister Punch band and dance demonstrators. This is the same band that played at our Burns Supper last year and they were very popular. Full details to follow next month or you can look at www.eastmidsmensa.org.uk in the meantime.
Prior to the barn dance there will be a regional committee meeting where the officers of East Midlands Mensa will be discussing various issues. If you have feedback - negative or positive - or any comments relating to East Midlands Mensa please do pass on to your LocSec or myself before 7th March. It would be an ideal time to jump on board if you were considering filling the LocSec vacancies for Derby or Northampton!
I'm on [Phone Number] or [Email] and always happy to hear from you.
Maxine Bates
Regional Officer
Editorial
It might be the shortest month of the year but this month's Empress is packed with events and things to do. If traveling is your thing, check out page 7 for more information on Travel SIG.
Empress may be packed but I'm keeping my update short and sweet – much like February - I hope to meet as many of you as possible at the Barn Dance.
Lucy Bengry
Events and Meetings
In the current circumstances surrounding the COVID-19 coronavirus, the expectation is that all events listed here are likely to be cancelled, if not already marked as such. If you intend participating in any event listed here, please contact the event organiser beforehand to confirm that the event is still on.

Mid Bucks
On Sun 8th Feb at 2.15pm - Museum
Join me at the Wildlife Photographer of the Year exhibition at 2.15pm. The Natural History Museum on Akeman Street, Tring HP23 6AP, will be displaying over a hundred of the winning entries from this annual competition which has been running for 50 years. It is an open event which receives entries from both amateur and professional photographers. See http://www.nhm.ac.uk/tring/whats-on/temporary-exhibitions/index.html for further information. Admission to the museum and the exhibition is free. Save yourself a lot of money by seeing this exhibition locally! The admission charge in London is £12.60 or £6.30 for concessions. If you would like to join me for lunch beforehand, probably at Prezzo's in Tring, please contact me by Sunday 1st February to confirm arrangements.
Val Hinkins
Contact [Email] or [Phone Number] for details

Lively Lincs
On Sat 14th Feb at 12.00pm - 2SaOTM
As the 2SaOTM falls on the 14th, we felt duty-bound to have a topical pub discussion topic: 'Why St Valentine's Day?' I doubt that it will be sentimental chat, someone will know all about St Valentine and enlighten us, others will wonder about the importance of 'special days' and, no doubt, there will be surprise cerebral excursions down other roads. Come and find out how it goes at the Adam and Eve on Lindum Hill, 12.00pm – 2.00pm, free car park, pub food available, we're usually in the alcove, look for the Mblem.
On Thu 26th Feb at 7.00pm - Eating meeting
The ever popular midweek evening eating meetings continue with a return to the Ocean Chinese restaurant in Hykeham at 7.00pm. We particularly like this venue because the round tables make it so much easier to have communal chatting. If you would like to come too, you'll be very welcome but do please book with me by 21st February.
Christine Howells
Contact [Email] for details

Mensans in MK & Bedford
On Sun 8th Feb at 10.00am - Sunday breakfast
Sunday breakfast will be on 8th February at 10.00am at Carluccio's in the Centre:MK. You will probably find us in one of the red booths just in front of the restaurant– look for the Mblem on a table. Come for a full breakfast, a snack, or just a drink. Contact me at for directions and/or encouragement.
On Mon 16th Feb at 8.30pm - 3MOTM
Our monthly outing to the quiz at The Barge in Woolstone starts from 8.30pm - the quiz starts at 9.00pm and costs £1.00 per person. Look out for the Mblem. Please let me know if you plan to come so I can bag a large enough table.
On Sun 22nd Feb at 10.30am - Walk
We'll go for a leisurely walk around Fenny Stratford, just south of MK – for around 1-1½ hours. Meet at 10.30am in the car park in Denmark Street – look for the Mblem. We'll probably finish with lunch at a local pub. Contact me if you would like us to look out for you.
Just a reminder about our M-MK & Bedford Facebook group – if you would like to join please search for the group and send me a request. I also keep an email distribution list for meeting reminders and any last-minute changes, so if you would like to be added to this please let me know.
We hope to see as many of you as possible at one or other of our events in February. Do remember that you're welcome to bring a guest with you, so if you've never been to a Mensa event and are a little nervous about coming along on your own, just bring a friend.
Jo Sidebottom
Contact [Email] or [Phone Number] / [Mobile Number] for details

Notts News
On Thu 5th Feb at 8.00pm - 5OTM
It's been nice to see some new faces at our "5th of the month" event recently, but more are welcome! Look for a yellow Mblem on the table, usually the first one inside the Goldings Room to the left of the bar, from 8.00pm. From our table real ale drinkers can peer through the windows into Castle Rock Brewery and sample their wares from the bar. But you are equally as welcome to sip a Coke or order a warming cup of coffee. The pub is on Queensbridge Road which is near Nottingham railway station. There is free parking outside.
On Fri 6th Feb at 6.00pm - Greyhound racing
The following evening we're going to the dogs! A return visit to Nottingham Greyhound Stadium at Colwick to take part in one of their charity tournaments. Normal admission and race card costs £6.00 but I've been donated 100 tickets that I'm selling for a bargain £3.00 with all that money going to Cancer Research UK. Accompanied under 18s are free of charge. So you get a fun night out for not a lot of money whilst helping a worthwhile charity. You can arrive/leave anytime from 6.00pm to 10.30pm. There is ample free parking. Food and drink is available at the venue either in the restaurant upstairs (pre-booking advised) or in the cafeteria downstairs. You can either watch the racing on screens from the warmth of the large bar or see it live from the trackside or alternate between the two. Feel free to invite family, friends or work colleagues. But you must purchase tickets in advance as I'm not allowed to hand them out at the gate.
On Web 11th Feb at 7.00pm - Cinema
We haven't been to the cinema for a while so we will be rectifying that. I can tell you now that I'll be going to see the new Shaun The Sheep movie out that week! Please let me know if interested, I've advertised a 7.00pm rendezvous time but this may need adjusting once the screening schedule is known and we may need to meet earlier or later. Venue will be the Showcase Cinema in Lenton, off the ring road and near Queen's Medical Centre. The 2-4-1 offer should still be available for anyone with an Orange mobile phone account.
On Thu 12th Feb at 7.30pm - Natter & nosh
From 7.30pm we have our "natter & nosh" event at the Beekeeper pub/restaurant on Meadow Lane in Beeston. Again there is ample free parking. You are welcome to join us for a meal, a snack or just a drink. We have the first table beyond the food order point at the end of the bar reserved. Look for a yellow Mblem and probably a dozen or so happy faces.
Ciao for now!
Maxine Bates
Contact [Email] or [Phone Number] for details
Derby Diary
On Wed 18th Feb at 7.30pm - 3WOTM
Join us from 7.30pm in the rear section of the Standing Order on Irongate. Being a Wetherspoon venue the food and drink are excellent value. Arrive/leave when you like. A yellow Mblem will be on display on one of the long tables. New faces always welcome. Hopefully those we saw at the end of 2014 will venture out again.
On Fri 20th Feb at 7.00pm - At Home
Susan and Mark invite you to their home in Ilkeston from 7.00pm for an informal evening of socialising with optional pay-as-you-go Chinese take away to celebrate the Chinese New Year of the goat. Phone [Phone Number] or email [Email] for the address and to say you'll be there. BYOB if you wish.
On Tue 24th Feb at 7.30pm - Eating meeting
Our "eating meeting" returns to Sweet Temptations Tea Rooms on Church Street in Ripley for an exclusive evening of Caribbean dining from 7.30pm. The venue is opening especially for our group and numbers are strictly limited to 24 places. The cost is £17.95 per person and includes a three course Caribbean themed meal plus coffee/tea with mints and complimentary glass of rum punch. For menu choices and to book please contact me by the 17th. First come first served!
Maxine Bates
Contact [Email] or [Phone Number] for details
More or Leicester
On Thu 26th Feb at 8.00pm - 4ThOTM
Just the one meeting this month, so make the most of it by bringing a friend / partner / random stranger to The Cradock Inn for our regular Fourth Thursday Discourse at 8.00pm. Look out for the magazine or Mblem in the lower bit, or give me a shout for more info.
Paul Coulson

Hertfordshire Happenings
On Thu 5th Feb at 8.15pm - FThOTM
As ever, we're at the Millstream, Cambridge Road, Hitchin from 8.15pm. Good food and good beer both available! Call me for more details and encouragement. The pub is about ten minutes' walk from the railway station. Come and mark (almost) the end of February - along with January a contender for the most miserable moth of the year!
On Fri 27th Feb at 8.00pm - LFOTM
As always, we're at the Cowper Arms, Digswell from 8.00pm, which is by Welwyn North railway station, which is served by stopping trains from Kings Cross to Cambridge and Peterborough. Good food and good beer both available! Call me for more details and encouragement.
Richard Allen
Contact [Email] or [Phone Number] for details

Luton Leisure
On Tue 3rd Feb at 7.30pm - FTuOTM
7.30pm at the 'Brache' Beefeater, Osborne Road, opposite the Vauxhall Design Building. There is parking. Come along for a drink and a chat, or just the chat. Food is available and new faces will be welcome to join.
Bob Ford
Contact [Email] or [Mobile Number] for details
Spotlight On… Travel SIG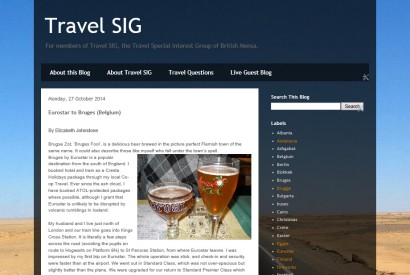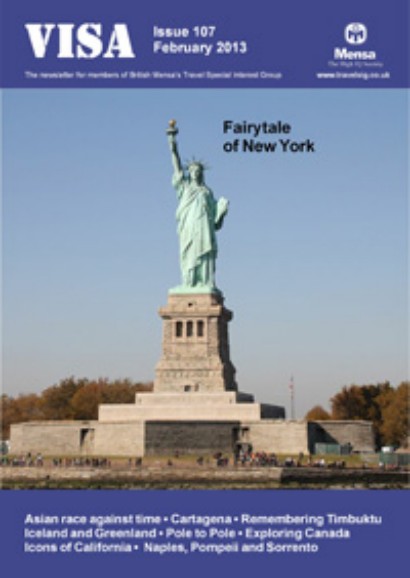 Travel SIG is one of the largest SIGs in British Mensa, with around 600 members. The newsletter, VISA, edited by Neil Matthews, is published six times a year, containing travel information, photos, tips and advice and debates on the issues and effects of tourism as well as travelogues which show well-known destinations in a fresh light and introduce members to lesser-known parts of the world.
We have organised various SIG events, including illustrated lectures where our members talk about their travels. On one notable occasion I found myself giving a talk on a trip to Pakistan dressed in a sari, and using a sofa as a visual aid. We have also made informal visits to UK and overseas locations: Cambridge, Brighton, Dublin and Paris have all been visited by Travel SIG. Our next trip may be to Hull (and back) to see how the preparations to be City of Culture in 2017 are going.
I have recently set up a new website for the SIG, which can be found at http://travelsig.blogspot.co.uk/. This site includes an archive of articles from VISA, as well as some special online only content. SIG member John Keeble provided 'live' coverage of the events to commemorate the tsunami on the Khao Lak coast.
For more information about Travel SIG, contact me on hsmatthews@btopenworld.com.
Helen Matthews
20 Questions (No. 161)
The Christmas answers from our December competition were bacon, Cupid, Bethlehem, Sandringham, Advocaat, the goose, Spanish, 10, mince pies, his wrist watch, Japan, poinsettia, tinsel, Aladdin, Christmas cracker, William I, Turkey, Little Women, white and Holiday Inn. Several entries this month from Roger Plant of Nottingham, Roger Lord of Aylesbury, Alex Foster of Derby, Nick Murray of Luton, Pamela Covey of Woburn, Andy Cole of Cleethorpes, Patrick Cavanagh of Ireland, Sue Barker of Bolton, Marianne Croll of Derby and Chris Impey of Tring. Thank you for all the Christmas greetings that were included with your entries too. The winner of the £10 book token was Andy.
This month's quiz is compiled by Les Hurst and all the questions or answers are related to fish or chips! Send your guesses to '20 Questions (No. 161)' by post to [Address], or by email to [Email] remembering to include your name and address. The competition closes on 20th February.
1. Which shell fish soup originated in the north east of America?
2. What nickname is given to overweight people known for lounging at home watching TV for long periods?
3. The most eastern part of Massachusetts is called what?
4. Bobby "Boris" Pickett had a top ten hit in 1973 with which song?
5. In 1982 who popularised streaking?
6. What was advertised on TV in a commercial that showed robots laughing at humans who "peeled them with their metal knives"?
7. Rock stars Ian Anderson and Roger Daltry have both owned what sort of business?
8. "I say tomato and you say tomahto. I say potato and you say potahto". What should we do?
9. What is the other ingredient in Lyonaise potatoes?
10. Which Harry Enfield character had a daughter called Spudulika?
11. Which gang are the rivals to The Jets in West Side Story?
12. Who are the only professional football club with a home ground named after a brand of oven chips?
13. Samuel Goldfish was better known in entertainment as who?
14. Which variety of potato accounts for 70% of Jersey's agricultural exports?
15. Salmonella was first identified in salmon – true or false?
16. "Do you love me, do you love me, now that I can dance". In fact, I can do two dances – which two?
17. Elkie Brooks and Robert Palmer made their name in which band?
18. Which film classic starring Robert Donat was shot on location at Repton School in Derbyshire in 1939?
19. Marjorie Courtenay-Latimer discovered which fish in 1938?
20. The earth covered mounds in which potatoes are stored are called what?