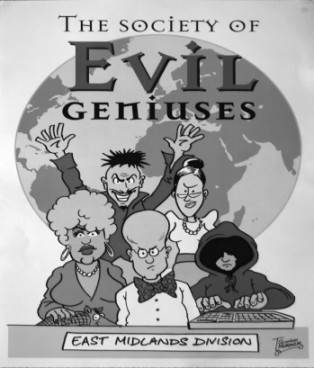 Which one are you? East Midlands Mensans as seen by Scooter McKenzie (aka Peter Bellingham, editor of Messenger)
Regional News
Nearly 50 members from every county in the East Midlands region as well as beyond enjoyed our "Open Day" in Northampton on 21st July. Thanks go to Merry Metcalf, Peter Bellingham and Richard Dimmock for their time and effort in preparing sessions to teach us new skills. Especially to Peter who had an arduous journey through floods to arrive on time. It was lovely to see regular attendees of our regional events as well as many new faces. Former Travel Show presenter Matthew Collins had us chuckling at his humourous talk, ably assisted by his son Nicolai, and several members purchased a signed copy of one of Matthew's books. The evening buffet was plentiful and delicious with the tables beautifully decorated with flowers and candles. Following the meal there was a general knowledge quiz where answering the questions correctly revealed a proverb. Congratulations to Nicky Watson and Chris Padley from Lincoln who won by one point. Some guests then departed whilst others stayed chatting or playing games until the bar closed.
Considerable interest is already being shown in our next event called "A Taste Of India" taking place in Leicester on Saturday 23rd February 2008. This will include a Bollywood dance workshop, a talk on Indian head massage with chance to have a mini-treatment, curry buffet and disco. And all for only £10 per person! For full details see www.mensa.org.uk/eastmids or contact me on [Phone Number].
One of Mensa's aims is to foster intelligence. Whilst there was opportunity to learn new skills at our "Open Day" it was designed to be a bit of fun. But how many of you would like to attend a real intellectual event such as listening to a high profile speaker with a scientific, business or personal development background? Plans are afoot to provide such events within British Mensa, but we need to know what you want! Please contact me if you might be interested in such stimulating events so that we can gauge the level of interest. Thank you.
Maxine Bates
Regional Officer
Events and Meetings
In the current circumstances surrounding the COVID-19 coronavirus, the expectation is that all events listed here are likely to be cancelled, if not already marked as such. If you intend participating in any event listed here, please contact the event organiser beforehand to confirm that the event is still on.

Lincoln
On Sun 9th Sep at 8.15pm - Pub Quiz
Join us in the Tap and Spile, Motherby Lane, Lincoln, for a friendly free quiz attracting all ages and with time to chat. For encouragement/directions please contact me.
Jacquie Harrison
Contact [Email] or [Phone Number] / [Mobile Number] for details

Berkhamsted
On Wed 26th Sep at 7.45pm - LWOTM
We meet at the White Horse Pub, Bourne End, on the Hemel Hempstead Road half way between Hemel and Berkhamsted. Do come and drink, eat or just join us for a quiet chat. All members welcome. If it is fine we will be in the garden. Any ideas for other meetings also welcome. Just come and explain, we would love to hear from you.
Jenny Habib
Contact [Email] or [Phone Number] for details

Notts News
On Sat 1st Sep at 4.00pm - Pamper Party
Come to my home in Langley Mill for a treatment with a qualified beautician: manicures, pedicures, facials, waxing, massages and more available at reasonable prices. Also hot tub in the garden. Food provided but BYOB. Please book with me.
On Wed 5th Sep at 8.00pm - 5OTM
Was the record turn out at the July event due to the new no smoking ban? See if we can repeat it this month at the Vat & Fiddle pub on Queensbridge Way! Look for yellow Mblem to left of bar. New faces welcome.
On Wed 12th Sep at 7.00pm - Chicks & Flicks
Hosted by Paul Henchliffe - [Email] or [Phone Number] for info. Nottingham's most informal event. Meet inside main doors to Cornerhouse in city centre for a meal at Nando's restaurant followed by a film at Cineworld. Free unlimited soft drinks with meal and 2-4-1 cinema tickets make it a whole night out for less than a tenner.
On Tue 18th Sep at 7.30pm - Theatre Trip
The rollerskating musical Starlight Express comes to the Royal Concert Hall. We've tickets for front of tier 2 costing £21 each. Contact me to check availability.
On Tue 25th Sep at 7.30pm - Postcode Pubcrawl: NG25
Join us for homecooked food at the riverside Bromley Arms, Main Street, Fiskerton, near Southwell. Optional river cruise with the landlord after dinner for £3 per person, weather permitting. Please book with me by 22nd September.
Ciao for now!
Maxine Bates
Contact [Email] or [Phone Number] for details

Northants NNotes
On Thu 13th Sep at 9.00pm - 2Th: Pub
For those of you not celebrating religious festivals today we have our regular meeting at the Fox & Hounds in Harlestone. Join us for a chat. Look for the Mensa mag on one of the tables. Details from me - see below.
On Wed 26th Sep at 8.00pm - Roadshow
Another trip out to a new venue: The Lamb, Orlingbury Road, Little Harrowden. It's within easy reach of Northampton, Kettering and Wellingborough so why not come along to meet the regulars. Look for the Mensa mag on a table. Details from me.
Ian Sargent
Contact [Email] or [Phone Number] / [Mobile Number] for details

Hertfordshire
On Thu 6th Sep at 7.30pm - Pub Social
Join us for our regular First Thursday of the month at the Millstream, Cambridge Road, Hitchin (about five minutes' walk from the station). Good food and beer (and company!) always available.
On Sun 9th Sep at 11.00am - "Steam Up"
After the success of last year's visit to Steam Up, when every steamable locomotive was in use on this fascinating little line, we're returning for a second visit. Meet in the car park at Pages Park station. Leighton Buzzard station is about 1 1/2 miles away.
On Sun 23rd Sep at 11.00am - Country Walk
Meet at Biggleswade railway station at 11.00am (Kings Cross- Peterborough line) for a five mile walk and pub meal in the Bedfordshire countryside.
On Fri 28th Sep at 8.00pm - LFOTM
Join us in the lounge (or the garden, if the weather's fine!) of the White Horse, Hertingfordbury, to chill out at the end of the month - look for the mag and Mblem. Ring Gwen on [Phone Number] for details and encouragement. The hotel is about 20 minutes' walk from Hertford North station. Meals are available.
Richard Allen
Contact [Email] or [Phone Number] for details

Milton Keynes & Bedford
On Thu 6th Sep at 8.00pm - FTh: Movable Feast
We're going to have another shot at ASK after not quite managing to get there in May. It's in the back of Xscape near the Snowslope. You can see the menu at http://www.askcentral.co.uk/askmenu.html. Booking with me is essential by Tuesday 4th please.
On Wed 19th Sep at 7.00pm - 3WOTM
Starbucks now closes at 9.00pm, so join us slightly earlier, from 7.00pm onwards. The coffee shop is in Borders bookshop by the Hockey Stadium. We'll have the Mblem on display, but don't forget to check the sofas round the corner!
On Sat 22nd Sep at 2.30pm - Pottery Painting
Join us at The Kiln in Ram Yard to select and paint a piece of pottery. The shop fires it and you collect later - see http://www.bedfordkiln.co.uk. Please let me know by Tuesday 18th as I'll need to book if we're a large party.
Jo Sidebottom
Contact [Email] or [Phone Number] / [Mobile Number] for details
High Wycombe & Amersham
On Thu 20th Sep at 8.00pm - Chinese Buffet
Join me at the JINDU Restaurant in Corporation Street for a Chinese Buffet. Excellent value in friendly surroundings. Call me to book your seat.
Hopefully everyone has enjoyed their Summer holidays. Come along to the JINDU restaurant and tell me about them and also about what sort of events you'd like to attend in South Buckinghamshire between now and Christmas.
Alistair Blackett
Dunstable and Luton
On Sat 8th Sep at 7.30pm - SSOTM Pub Eating Meeting
This month at The Griffin. 2 Station Road, Toddington LU5 6BN . Please join us for good chat, reminiscences, food & hilarity. I need to hear by the 5th September to book your place if you are coming, please. Email or ring me for encouragement and directions. [Phone Number] on the night if you get lost. New members always welcome.
Les Draper Eames
Leicestershire
On Tue 4th Sep at 8.00pm - Pub Meeting
Come along to The Hobby Horse for a drink and chat. Look for the magazine on the table! New members and families welcome. Please let me know by Sunday 2nd September if you are coming.
Rebecca Mawby
Derby Doings
On Wed 19th Sep at 7.30pm - 3WOTM
Your LocSec will be dutifully and eagerly awaiting friends old and new in the area at the rear of the Standing Order on Irongate - unless I'm skulking round the corner in the main area watching a match from the rugby World Cup on the TV. Anyway, it will probably be much more interesting talking to Maxine, Andy, Vanessa, Paul etc. instead. More info from me.
Cheers
Bernie Briggs
Open Day 21st July 2007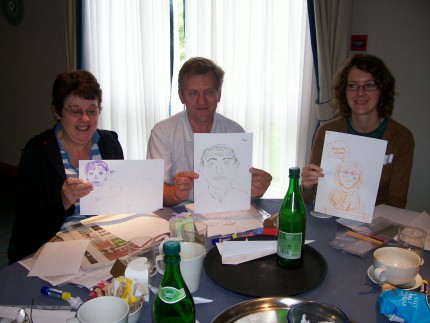 Liz, Rog and Sarah display their cartoon drawing skills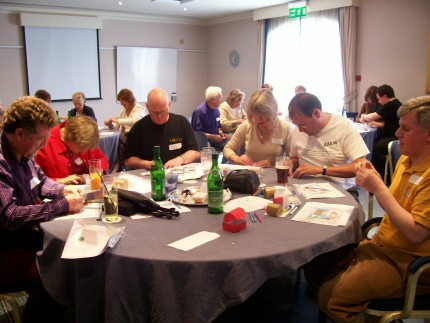 Eyes down to make Merry Metcalf's decorative boxes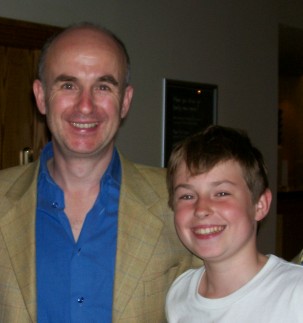 Matthew and Nicolai Collins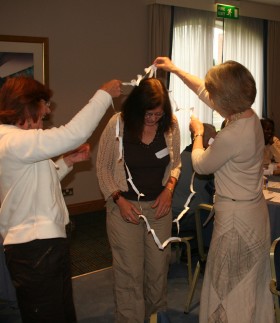 Ursula prepares to walk through a sheet of paper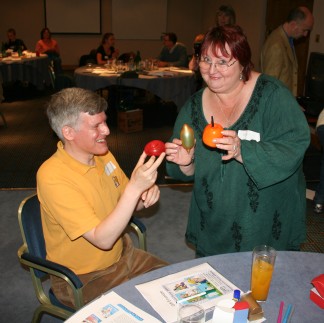 David and Merry admire Richard Dimmock's balloon fruit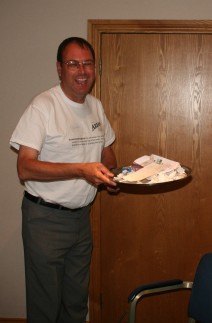 LocSec Richard collects the rubbish - on a silver platter
20 Questions (No. 72)
The US state anagrams from the July issue were New York, California, Wyoming, West Virgina, Oregon, Rhode Island,Delaware, New Hampshire, Maryland, North Carolina, Wisconsin, Massachusetts, North Dakota, Minnesota, New Mexico, South Dakota, Colorado, Washington, Nebraska and Pennsylvania. There were a record number of entries this month,far too many to list here. Congratulations to the winner Margaret Etall of Watford who was picked at random from the 69 entries and thanks to everyone who included nice comments about Empress and our regular competition.
Never let it be said I have idle moments as I compiled this quiz whilst flying back from my summer holiday in Portugal! Please send your answers to '20 Questions (No. 72)', [Address], to arrive by 20th September for chance to win a limited edition "evil geniuses" linen bag designed by Mensan Peter Bellingham. (See cover of this issue)
1. Which cape lies at the most south westerly point of Europe?
2. When is the national day of Portugal?
3. Which motorway links the Algarve to Lisbon?
4. What was the currency of Portugal prior to the euro?
5. Which type of fish is celebrated with a festival in August?
6. What is the second largest town, after Faro, on the Algarve?
7. Police wearing armbands marked CD are assigned to help whom?
8. What is the name for a traditional handpainted ceramic tile made in Portugal?
9. Which river flows through Lisbon?
10. What is the speed limit in km/hour in urban areas throughout Portugal?
11. Vila Real de where is the most easterly town on the Algarve?
12. Which prince assembled a school of navigation in the 15th century?
13. What is the national airline of Portugal?
14. What is the name of the highest point on the Algarve marked by an obelisk?
15. Which major road links Faro to Lagos?
16. What would arrive on your plate if ordering 'lulas'?
17. The Algarve suffered a major earthquake on 1st November in which year?
18. Portugal's largest museum contains what?
19. What is 'vinho verde'?
20. Which south west mountain range separates the Algarve from northern Portugal?