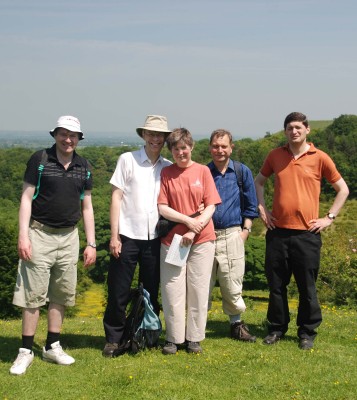 Mark, Peter, Val, Mike and Neil enjoy the view from Chequers Knapp in the Chilterns (Photo: Helen Matthews)
Regional News
A while ago we held a national "T@3" event. Whilst many regular Mensa events take place in pubs and bars we do appreciate that not everyone enjoys these types of venues despite the smoking ban. So a series of tea/coffee drinking events were held at homes, tea shops and garden centre cafes around the country. The event proved popular so the East Midlands region is repeating it at 3.00pm on Sunday 3rd August. We have many such events throughout our region on that day so do pop along and say hello over a nice cuppa if you get chance. Ideas are welcome for future themed events in our region. Please contact me or your Local Secretary.
David Dreebin organises an annual Mensa Music Weekend which this year takes place from 14th to 17th August and will be based at the University of Hertfordshire in Hatfield. If you sing or play a musical instrument and would like to attend, please contact Diane Salter at the Mensa office on 01902 772 771 or [Email] for full details and a booking form. The Music Weekend is usually held in Manchester so do take advantage of it being in our region if you are a musician and are available that weekend. David also invites us to join the Music Weekenders for an evening meal on Saturday 16th August in Hatfield. Contact David on [Email] or [Phone Number] for details. There may also be an informal concert at the University of Hertfordshire on the Sunday.
Finally I would like to plug a Wedding Dress Day Charity Ball that I am organising in aid of Cancer Research UK. The 3rd national Wedding Dress Day takes place on Friday 29th August. The idea is that women get the opportunity to don their wedding dress again and get sponsored doing everyday tasks wearing it. However, I've taken the idea a step further and am organising a ball where everyone in all types of wedding attire is welcome. The venue is the Rutland Square Hotel in Nottingham which has treated us so well at previous events. The function room will be decorated like a wedding reception, there will be a three course wedding breakfast followed by wedding cake (but no speeches!), dancing and a charity prize draw. Whilst not a Mensa exclusive event this is a great opportunity to meet new people, enjoy a fun evening of dining and dancing, and help raise money for this very worthwhile cause. I am organising it free of charge so that every penny goes to charity. Tickets are a reasonably priced £29 with a fiver from each sale going directly to charity. Please contact me on [Phone Number] or see www.maruba-events.com for further details.
Maxine Bates
Regional Officer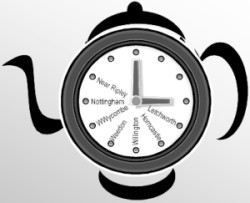 REGIONAL EVENTS
Somewhere near you on
Sunday 3rd August
will be a
Tea @ 3
Check out your area for details
Events and Meetings
In the current circumstances surrounding the COVID-19 coronavirus, the expectation is that all non-online events listed here are susceptible to being cancelled, if not already marked as such. If you intend participating in any event listed here, please contact the event organiser beforehand to confirm that the event is still on.

Hertfordshire Happenings
On Sun 3rd Aug at 3.00pm - T@3
Let's start the month with "T@3" on Sunday 3rd August with cakes and trimmings at my place; in the garden if fine, indoors if not. If you want to bring a board game or two as well, please feel free. Let me know you're coming. I'm about ten minutes' walk from Letchworth station (Kings Cross - Cambridge).
On Thu 7th Aug at 8.15pm - FThOM
Join me from 8.15pm on 7th August for our regular FThOM meeting at the Millstream, Cambridge Road, Hitchin. Good food and good beer both available! Call for more details/encouragement. The pub is about ten minutes' walk from the railway station. Sadly, there are very few evening buses.
On Sun 17th Aug at 12.30pm - Pub lunch
On Sunday 17th August at 12.30pm let's enjoy Summer with a traditional pub lunch (washed down with good beer!) at the Waggon and Horses in Graveley, a delightful country pub between Letchworth and Stevenage. We'll sit outside if the weather's fine. The pub is on the B197 road in Graveley village and can be reached by bus; route 54 (Stevenage - Letchworth - Hitchin) stops by the pub and runs every two hours. Call me if you're coming as the pub can get busy and reservations are recommended. If you want to cycle there, let me know and we'll arrange a local meeting point.
On Fri 29th Aug at 8.00pm - LFOTM
On Friday 29th August at 8.00pm join Gwen and me at the White Horse, Hertingfordbury, to unwind on LFOTM. Food and an interesting range of beer available; interesting and stimulating conversation guaranteed! Look for the Mag/Mblem. Hertingfordbury is about 20 minutes' walk from Hertford North station. Contact Gwen on [Phone Number] or me for further details and encouragement.
Please note that this is a change of venue from that published in Empress and the Mensa mag. This meeting is now at the White Horse.
I'm also looking to arrange a couple of weekend days out to local places of interest during August; if you're interested, please keep an eye on the East Midlands list or give me a call.
Richard Allen
Contact [Email] or [Phone Number] for details
Derby Diary
On Sun 3rd Aug at 3.00pm - T@3
August is here and, with any luck, the weather has improved and the evenings are long and warm, so why not come and join us at one of our get-togethers? I'll be hosting two 'at homes' this month, the first on Sunday 3rd which will be a "Tea@3" fund raiser to help our local hospice. Tea and cake will be served in our garden for a small contribution towards this worthwhile national charity. Those who'd like to work up an appetite first are invited to join Giles at 2.00pm for a walk through the local woodland. Please call or email me (see below) for directions to our home down in Golden Valley, just outside Ripley or just to let us know you're coming so we can arrange parking.
On Mon 18th Aug at 7.00pm - At Home
On Monday 18th we'll be having our usual "at home" with food, drink and excellent company, plus the added possibility of board games, gossip, generally putting the world to rights and the chance to sit out in the garden and commune with the chickens if the weather is fine!
On Wed 20th Aug at 7.30pm - 3WOTM
The "3rd Wednesday" falls just two days later on the 20th so, if you've not managed to make it to Ripley, why not join us at the Standing Order in Derby any time from 7.30pm for a meal or just a drink or even just to pop in to say hello. Just look for the yellow Mblem on one of the tables at the back. As always, if you want some encouragement to attend one of these meetings, advertise one of your own or just want to say hello, then please contact me as below.
Merry Metcalf

Notts News
On Fri 1st Aug at 7.00pm - Greyhound Racing
On Friday 1st we have our annual trip to Nottingham Greyhound Stadium, Colwick, for an evening of fun - and maybe profitable - racing. In our group deal £10 gets you admission, a race card, pie and pea supper, a drink (Carling, Reef or J2O) and three bets; this must be pre-booked. Meet outside the gates at 7.00pm. Under 18s and latecomers are welcome to just pay on the door and join us on the night.
On Sun 3rd Aug at 12.30pm - Walk
On Sunday 3rd we have two events in D H Lawrence country. The first is an easy circular five mile walk around Moorgreen which passes through woods and fields and around the reservoir. Meet at 12.30pm in the lay-by next to Greasley St Mary's Church on B600. The church is of medieval origin with a 15th century tower and was largely rebuilt in the 19th century. It was portrayed as Greymede Church in The White Peacock and Minton Church in Sons And Lovers.
On Sun 3rd Aug at 3.00pm - T@3
The walkers should return by 3.00pm in time for "T@3" when we can enjoy sandwiches, delicious homemade cakes and a selection of teas, coffees and cordials at Mintons Tea Rooms adjoining the church. Find us outside in the garden if warm and sunny. You are welcome to join us for either the walk, afternoon tea or both.
On Tue 5th Aug at 8.00pm - 5OTM
The Nottingham Mensa monthly get-together is from 8.00pm until late on Tuesday 5th at the Vat & Fiddle pub on Queensbridge Road near the railway station. Look for the yellow Mblem to left of the bar. The pub belongs to the Tynemill group so serves a good selection of real ales as well as reasonably priced soft drinks. New faces of all ages are always welcome.
On Wed 13th Aug at 7.00pm - Chicks & Flicks
Our regular "Chicks & Flicks" event falls on Wednesday 13th which is the host's birthday. Help Paul celebrate at Nando's peri-peri chicken restaurant followed by a film at Cineworld. Free unlimited soft drinks for Cornerhouse card holders; 2-4-1 cinema tickets for Orange mobile owners. For further information/to pass on birthday greetings, Paul is on [Phone Number]/[Email]
Our "Postcode Pubcrawl" series of events has now ended and we are taking a short summer break but on the last Tuesday of each month I plan to hold an "eating meeting" either in Notts or Derbys. Please do get in touch if you have any restaurant recommendations, especially if they are cheap or unusual.
Ciao for now!
Maxine Bates
Contact [Email] or [Phone Number] for details

Leicestershire Letter
On Sat 16 Aug at 11.00am - Eastwell Fete
On 16th August it will be the 15th Eastwell Fete. Several Mensans have come for some years now, but tend to move around independently: sometimes I see them, sometimes I don't. This year it would be nice to get together for a drink around 3.00pm (or earlier if you wish). Maybe if you intend coming, you could let me know, so I can look out for you in the bar area.
We have also traditionally met for cream teas at Little Dalby in August. As it is still only June, I am unable to find out which two Sundays in August they will be open. These teas are really good value, held in a private garden, and we usually wander up to the church on the hill some time during the afternoon. Hopefully we'll be there either 17th or 24th August: if you'd like to go, get in touch, and I'll let you know which day - and give directions, if necessary.
Sue Watford
Contact [Email] or [Phone Number] for details

Northants NNotes
On Sat 3rd Aug at 2:50pm - T@3
Along with some of the other East Midlands members, the Northants group is going for T@3 on Saturday 3rd August. The venue is the Heart of the Shires shopping village on the A5, two miles north of Weedon. Meet outside Darlington's Restaurant at 2:50pm. If you contact me a couple of days in advance, I'll give them warning of how many are coming! A cream tea will set you back £4.50.
On Thu 14th Aug at 9.00pm - 2ThOTM
The second Thursday of the month, 14th August, sees our regular meeting at the Fox & Hounds at Harlestone from 9.00pm. The village is in the same place that it's always been so there's not really much else to say about it! Look for the Mensa mag on one of the tables to find us.
On Thu 21st Aug at 8:00pm - Roadshow
On Thursday 21st August from 8:00pm the Roadshow goes to another new venue and this time it's in the far west of the county. The Admiral Nelson is a canal-side pub in Dark Lane, Braunston. We'll be there with a copy of the Mensa mag to give away our position. If it's a nice night we'll be on one of the picnic tables, otherwise we'll be in the bar. The village is a couple of miles west of Daventry and you will need directions if you don't know the area . . . turn off the A45 at the sign pointing to Braunston and Welton. At the church bear right and stay on the main road (signposted Welton). After you pass the village hall on your left look for a No Through Road on the right – this is Dark Lane. Follow it to the end to find the pub. Look out for the sharp left-hand bend otherwise you will end up in a field!
On Mon 22nd Sep at 7:30pm - Strangers in the Night
Advance notice . . . of a meeting on Monday 22nd September at 7:30pm. Specially for those Northants members who have not yet been able to get to one of our events, or who have not been along for a while we present "Strangers in the Night". Join us at the Red Hot restaurant, Sixfields, Northampton for a meal and a chat. For members with an NN postcode the cost of the meal is just £5 and £11.95 for guests (drinks extra). Advance booking, by 15th September, please to me at [Address]. Cheques payable to "Mensa Northampton".
Ian Sargent
Contact [Email] or [Phone Number] / [Mobile Number] for details

Mid Bucks
On Sun 3rd Aug at 2.00pm - Caves@2, T@3
Escape the Summer heat (or rain?) and join me on Sunday 3rd August for an underground adventure, followed by tea in the nice café at the cave entrance. Admission is £5.00 for adults, £4.00 for concessions and NT members. I've lived in High Wycombe for over three years and still not visited the West Wycombe caves. Built by Sir Francis Dashwood in the 1740s they are reputed to have been the meeting place for the notorious Hell Fire Club. Chalk from their construction was used to form the road to High Wycombe and the project provided local employment after a series of years with poor harvests. See www.hellfirecaves.co.uk for details.
Contact me for directions/encouragement or to let me know I should look out for you.
Val Hinkins
Contact [Email] or [Phone Number] for details

Mensans in MK & Bedford
Hopefully we will be enjoying some fine weather this month, so why not celebrate by joining us at one of our meetings?
On Thu 7th Aug at 8.00pm - FThOTM
First Thursday is at our regular venue of Jurys Inn on Midsummer Boulevard, on 7th August, from 8.00pm. Look out for the Mblem in either the foyer or the bar – most likely the foyer as it's quieter. Parking is a bit busy around Jury's and The Hub, so we usually try and get in across the road and then walk through the underpass.
On Sun 17th Aug at 11.30am - Danish Camp, Lunch, T@3
On Sunday 17th August we have three events in one. We'll be visiting the Danish Camp at Willington in the morning - it's a historical (Viking) site which includes wildlife walks and a visitor centre. Food is available, so we plan to stay on for lunch, and then in the afternoon wander up the road to the Frost's Garden Centre for "T@3" (we're busy on 3rd August and can't do it then with the rest of the region). Meet in the Danish Camp car park at 11.30am – it's in Chapel Lane, Willington, just off the A603 from Bedford to Sandy ( MK44 3QG for Streetmap/Satnav). If you just want to join us for lunch, we'll be at the Danish Camp restaurant around 1.00pm (call me to confirm, in case we're a bit later), and for "T@3" we'll be in Frost's restaurant at 3.00pm.
On Wed 20th Aug at 8.00pm - 3WOTM
Our Third Wednesday meeting at the Old Beams in Shenley Lodge is on 20th August. If you're planning to come, please let me know as it will help us to grab the right sized table, but don't let that put you off deciding on the spur of the moment – you'll still be welcome. See www.mcmullens.co.uk for location and menu details. You can eat or not, as you wish – their food is quite good and reasonably priced. If it's fine, we may be outside, otherwise look around for the Mblem as we don't always get the same table.
Jo Sidebottom
Contact [Email] or [Phone Number] / [Mobile Number] for details

Lincoln
On Sun 3rd Aug at 3.00pm - T@3
In spirit join Mensans around the region by meeting at Botts coffee shop in Crowders, Horncastle for tea and chat. For more details or encouragement please contact me. All very welcome, please look for mag.
On Sat 9th Aug at 11.00am - Coffee at eleven
Join us for coffee and chat in the Cathedral coffee shop - if it is really warm we may be outside. For directions, encouragement please contact me. All very welcome.
Jacquie Harrison
Contact [Email] or [Phone Number] / [Mobile Number] for details

Berkhamsted
On Wed 27 Aug at 7.45pm - LWOTM
We will meet at the Crown Inn at Ley Hill. Car parking is in the lay-by opposite, which usually has plenty of spaces. Do come and join us for a drink, or to eat or just for a chat. All members welcome, come if you can. If the weather is nice we can stay outside.
Jenny Habib
Contact [Email] or [Phone Number] for details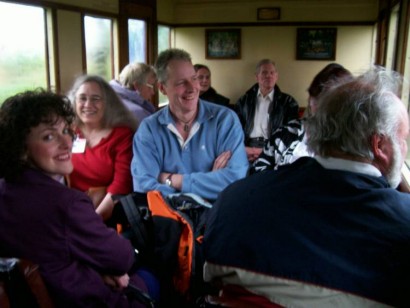 Steaming along the Leighton Buzzard narrow gauge railway . . . in the centre of this final photo from the MK weekend is Neil Goulder, an editor of Empress when she was just starting out in life. (
More photos
)
Write quickly, Jo and Chris, before you're seen using that pencil . . .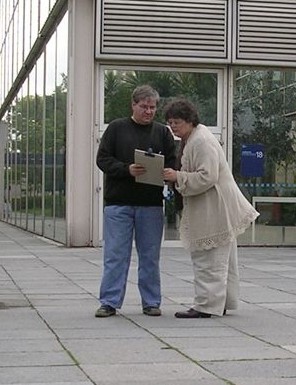 Jo Sidebottom, LocSec of Milton Keynes and Bedfordshire, and co-organiser of the recent MK weekend, describes encountering an unexpected hazard of organising.
The perils of being a weekend organiser! Having designed the treasure hunt a couple of months before the MK Weekend, we did a last run through the week before to ensure that no clues had been removed or changed. Several clues near the end were in the shopping centre, and when we were in there on our run-through the security guard wanted to know why we were looking at things and writing things down.
He had to summon his boss (we had to wait 30 minutes until he was available) and, although we tried to explain that it was "just a little quiz for some friends", they had a major problem with the fact that we were WRITING THINGS DOWN!!! They told us we had to phone Marketing the next day to get permission as it's private property.
The lady from Marketing said we should really have ID badges for everyone, so I gave her a spiel about doing treasure hunts all over the country and never having this problem, trying to show MK off to our friends as a welcoming place that doesn't deserve its concrete jungle reputation, and they weren't helping . . .
Anyway, in the end we agreed that I should put a note on the treasure hunt form saying she had given us permission, and asking people to have their Weekend name badges with them, and she would inform security that there would be a group going round WRITING THINGS DOWN. She said people might be stopped, but as long as they showed the guard their form with her name on it, it should be ok.
The only good thing was that they actually stopped us beforehand, because otherwise they would certainly have stopped people who were actually doing the treasure hunt, and could just have scuppered the whole event. I honestly couldn't believe the palaver about it but apparently it's the way they work. She said we would be ok doing the Art Walk (a self-guided walk using a councilpublished leaflet) the following day (some pieces are in the shopping centre) - even though we would be looking hard at things, we weren't going to be doing any writing. That's what they seem to have problems with. As though no-one ever writes anything down in a shopping centre!!
As a postscript, no-one reported being stopped by security whilst doing the treasure hunt, so obviously the hassle they gave us was not in vain!
20 Questions (No. 83)
Did you know the answers to the crime and punishment quiz from the June issue? They were London, tax evasion, Alcatraz, Ronnie, Martin Luther King, the pillory, Fred West, 1964, George Best, a sword, Ohio, Peter Sutcliffe, Fleet Street, Ruth Ellis, Guinness, Lee Harvey Oswald, Parker and Barrow, John Christie, 1948 and Hawley. Entries were received from Chris Newbold of Quorn, Chris Jury of Nottingham, Stuart Duckmanton of Mansfield, Carol Wheatcroft of Derby, Pamela Covey of Woburn, Mike Hadley of Lutterworth, Chris Impey of Tring and Philip Abbott of Watford with Stuart winning a £10 Leisure Voucher to spend on food, drink, accommodation or days out.
This month we have a summer themed quiz set by Jo Sidebottom. Send your entries to arrive by 20th Aug to '20 Questions (No. 83)', [Address] stating whether you would prefer to win a £10 Leisure Voucher or £10 National Book Token.
1. Which Swedish pop group covered the Bananarama hit Cruel Summer?
2. Which musical features the song Summer Nights?
3. Which town in the East Midlands region has a street named Midsummer Boulevard?
4. Who originally "had no cure for the summertime blues"?
5. Which Australian soap is set in Summer Bay?
6. Which playwright wrote the Channel 4 five part drama called One Summer?
7. Who originally said "one swallow does not make a summer"?
8. Which brewery makes Summer Lightning ale?
9. In Last Of The Summer Wine what was the name of Nora's husband?
10. Summertown is a suburb of which English university city?
11. Who spent "summers in a summer camp and winters in the town"?
12. What is the summer equivalent of hibernation?
13. Summer pudding consists of berries encased in what?
14. What is the real name of Donna Summer?
15. The Summer Palace is a UNESCO World Heritage Site in which city?
16. Who wrote the poem I See The Boys Of Summer?
17. In which year was the film I Know What You Did Last Summer released?
18. Who is entreated to "come ye back when summer's in the meadow"?
19. Which ancient Celtic festival marked the start of summer?
20. Summer Sundae is a live music event at which Leicestershire venue?