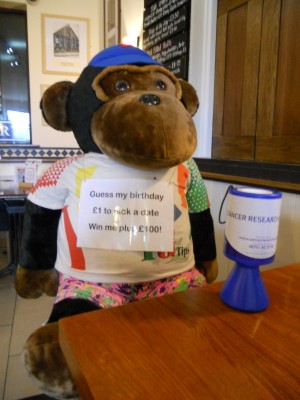 Putting the FUN into FUNdraising
Fundraising at the Vat & Fiddle pub
Regional News
This month sees our usual selection of local social events. If you've never ventured out to meet other members, why not give it a try? Feel free to phone/email the host beforehand if you need directions or reassurance and you'll be warmly welcomed. Remember that if our current range of events doesn't appeal any member can arrange any activity. Why not share your hobby with others? It's very easy to organise. Simply contact myself or your Local Secretary for further info.
Although out of our region, the Forensic Science Days held at Huddersfield University a couple of years ago were hugely popular and there's another chance to take part on Saturday 20th October. The day will run from 10.00am to 4.30pm and includes Mensa exclusive lectures and lots of hands-on activities using their expensive laboratory equipment. See www.eastmidsmensa.org.uk for programme and booking form.
Further afield I hope those of you attending the British Mensa Annual Gathering in Belfast, 21st-24th September, have an enjoyable weekend. I'm looking forward to my first visit to Northern Ireland despite the airline cancelling my flight and having a brief period of panic finding an alternative!
Finally I'd like to wish two East Midlands Mensa officers a very happy birthday as Val Hinkins and Mark Sloan both celebrate a significant milestone this month.
I'm always happy to hear from you on [Phone Number] or [Email]
Maxine Bates
Regional Officer
Events and Meetings
In the current circumstances surrounding the COVID-19 coronavirus, the expectation is that all events listed here are likely to be cancelled, if not already marked as such. If you intend participating in any event listed here, please contact the event organiser beforehand to confirm that the event is still on.

Notts News
On Wed 5th Sep at 8.00pm - 5OTM
Find us in the Golding's Room to the left of the bar in the Vat & Fiddle pub on Queensbridge Road (near Nottingham railway station) from 8.00pm on Wednesday 5th. In July Kevin the PG Tips chimp joined us. Why not come along and see if there's a special guest this month!
On Thu 13th Sep at 7.30pm - 3ThOTM
Our "2nd Thursday" get together is once again at the Beekeeper pub on Meadow Lane in Beeston on 13th. A convenient location, good value food and drink, and varied company make this a well attended event. Come for food at 7.30pm or later for just a drink. We have a regular booking of table number 26 which is near the food order point. New faces always welcome.
On Tue 25th Sep at 7.30pm - Eating meeting
Having been one of the first customers at Nando's when their new restaurant opened on the Ikea retail park near M1 J26 and knowing how many of my Mensa friends miss their quota of peri-peri chicken since our "chicks & flicks" events halted we're going for a meal here at 7.30pm on Tuesday 25th. Please let me know if you'd like to join us by 20th so I can try to reserve a table. Menu at www.nandos.co.uk
On Thu 27th Sep at 7.30pm - Bouncers
John Godber's comedy play "Bouncers" comes to the Theatre Royal and I'm planning a group visit to the 7.30pm performance on Thursday 27th. Tickets cost £13 to £24 depending on seating preference and there's 10% discount for groups of 10+. Please get in touch as soon as possible if interested.
Ciao for now!
Maxine Bates
Contact [Email] or [Phone Number] for details

Northants NNotes
On Thu 6th Sep at 9.00pm - FThOTM
There are three events in different parts of the county to partake in this month, starting with our usual Northampton meeting on Thursday 6th at 9.00pm. We go to The Eastgate in Abington Street, which was previously Lloyds No.1 (though when I first went in it was Youngsters Toy Shop with a wooden slide down to the basement!). Hopefully we will have found a pub that doesn't have a quiz night – why do they all seem to be on Thursdays?
On Sat 8th Sep at 10.30am - Walk & Lunch
Two days later and it's chance to explore the country side again. Saturday 8th at 10.30am is the time and the meeting point is the Rose & Crown in Yardley Hastings (on the A428 between Northampton and Bedford). The 4-mile route takes us through the grounds of Castle Ashby House. If you don't fancy the walk then meet us in the pub for lunch around 12.30pm.
On Thu 20th Sep at 8.00pm - Roadshow
Thursday 20th 8.00pm marks the start of our last event for the month, which is the Roadshow meeting. The roving band heads to The Olde Sun, Middle Street, Nether Heyford, NN7 3LL, so why don't you join us? The village is accessible from the A5 and A45, or via Bugbrooke. As always, a copy of the Mensa magazine, or another Mensa symbol, will show you who we are for the evening meetings. If you need any further information please contact me.
Ian Sargent
Contact [Email] or [Phone Number] / [Mobile Number] for details

Mensans in MK & Bedford
On Thu 6th Sep at 8.00pm - FThOTM
Please join us on the 6th from 8.00pm for an informal First Thursday chat at The Old Beams at Shenley Lodge. Feel free to join us for a meal or just a drink - look out for the Mblem or mag. For location, menu, etc. see http://www.mcmullens.co.uk/oldbeams.
On Sat 8th Sep at TBA - Bike ride
has very kindly volunteered to lead a bike ride around Milton Keynes on Saturday 8th as our small tribute to Olympic year! Full details yet to be finalised, but it's likely to be around 15 miles, 4-5 hours, and probably a heritage route. So possibly a morning start, with a lunch stop. Full details will be on the East Midlands web site (www.eastmidsmensa.org.uk) and on the MK Mensa Facebook group (M-MK & Bedford), or you can contact me to get all the information.
On Sun 16th Sep at 10.15am - Sunday breakfast
Sunday breakfast will be at 10.15am on Sunday 16th, at Carluccio's in the Centre:MK. Come for a full breakfast, a snack, or just a drink - we will probably be in one of the red booths just outside the restaurant.
On Sat 29th Sep at 3.00pm - T@3
Saturday 29th sees us back at Dobbie's Garden Centre in Fenny Stratford, just south of Milton Keynes, for T@3. This is one of our most popular meetings and an ideal one to come along to if you've never joined us before. Not that you wouldn't be welcome at any meeting, but most of us agree that T@3 has a particularly nice atmosphere (and great cakes!).
We hope to see as many of you as possible at one or other of our events in September. Do remember that you're welcome to bring a guest with you, so if you've never been to a Mensa event and are a little nervous about coming along on your own, just bring a friend!
Jo Sidebottom
Contact [Email] or [Phone Number] / [Mobile Number] for details

Derby Diary
On Wed 19th Sep at 7.30pm - 3WOTM
Just our regular event this month from 7.30pm on Wednesday 19th at the Standing Order on Irongate in the city centre. Look for a yellow Mblem on one of the long tables in the low ceiling area at the rear of the pub. Old and new faces of all ages are welcome to join us for food or just a drink. It's a Wetherspoon venue so good value for money.
If summer ever arrives there may be a walk around the Derbyshire countryside one Saturday or Sunday, but I don't want to commit to a date, time or place without seeing the weather forecast! Give me a call if you fancy a walk and we can plan something suitable for those who express interest.
We are still seeking a Local Secretary to look after members in the DE postcode area. If you'd like an informal no obligation chat about taking over the role please get in touch with me on [Phone Number].
Maxine Bates
Contact [Email] or [Phone Number] for details

Hertfordshire Happenings
On Thu 6th Sep at 8.15pm - FThOTM
Thursday 6th from 8.15pm at Hitchin: FThOTM with Steve Hemingway. Richard's not available for this meeting so I shall be standing in. Otherwise, there's no change and we're still at the Millstream, Cambridge Road, Hitchin. Good food and good beer both available! Call me on [Phone Number] for more details and encouragement. The pub is about ten minutes' walk from the railway station.
On Fri 28th Sep at 8.00pm - LFOTM
Friday 28th from 8.00pm at Digswell (by Welwyn North Station) LFOTM with Richard Allen. Now the Games are all over, it's back to normal and we'll be at the Cowper Arms, Digswell, Herts (by Welwyn North station). Call me for more details and encouragement. The pub is next to the railway station, which is served by stopping trains from Kings Cross to Cambridge and Peterborough.
Richard Allen
Contact [Email] or [Phone Number] for details

Lively Lincs
On Sat 8th Sep at 12.05pm - 2SaOTM
Our pub discussion this month is on 'Is technology changing social interaction?' in amongst some more general chat. So do join us at the Adam & Eve on Lindum Hill, Saturday 8th for lunch or just a quick drink between 12.05pm and 2.00pm or later. Contact me for encouragement.
On Sun 23rd Sep at 3.00pm - At home
More discussion, this time over tea and cakes at my house near Alford, on ideas of the main philosophers but no previous knowledge required, everyone can join in. This month it's on Sunday 23rd from 3.00-5.00pm and the topics are: Individualism, Infinity, Ideals, and Identity. Please contact me for directions.
Christine Howells
Contact [Email] for details

Berkhamsted
On Wed 26th Sep at 7.45pm - LWOTM
On Wednesday 26th we will meet as usual at the Old Mill at 7.45-ish, the pub set back from the London Road, next door to the Esso petrol station. If it is fine we will sit in the garden. Come and chat / drink/ eat and see what happens.
Jenny Habib
Contact [Email] or [Phone Number] for details
More or Leicester
On Tue 4th Sep at 8.00pm - FTuOTM
It used to be the case that people would gather at The Corn Exchange to trade cereal commodities, so it's only right and proper that we gather at The Corn Exchange in Market Place and trade banter, repartee and requests for the salt and vinegar at dinner on Tuesday 4th at 8.00pm. Full details of the place at http://tinyurl.com/LeicsCornExchange, but please get in touch beforehand so we know how many chairs we need to gather.
On Thu 20th Sep at 8.00pm - 3ThOTM
A curious fact about September: No other month ends on the same day of the week as September, not even on a leap year. Got any curious facts yourself? If so, bring them along to The Craddock (http:// tinyurl.com/leicsMensaTTOTM) on Thursday 20th at 8.00pm for our regular Third-Thursday get together. Lookout for the Magazine or yellow mBlem on a table somewhere. Any questions, comments, or just fancy a chat? Give me a call or email me.
Paul Coulson

Mid Bucks
On Thu 13th Sep at 7:30pm - Eating meeting
Join me for an informal meal in High Wycombe to celebrate my 60th birthday at Café Italia in the Eden Centre. Meet there at 7:30pm on Thursday 13th. I hope to see lots of you there!
Please come and help me get in the mood for retirement. Bring plenty of ideas for events to fill up my newly empty diary!
I will need to book a table so please contact me by Tuesday 11th September at the latest to let me know you are coming. For further directions or encouragement please ring or e-mail me.
Advance notice: Join Mark Sandford for the matinee performance of Dry Rot by John Chapman at the Swan theatre in High Wycombe at 2.30pm on Saturday 6th October 2012. Ticket prices range from £18.50. For directions or encouragement please ring Mark on [Phone Number]
Val Hinkins
Contact [Email] or [Phone Number] for details

WATever . . .
On Mon 10th Sep at 8.00pm - A favourite painting
Watford on Monday 10th at 8.00pm: A favourite painting – hosted by Julia Haldane. Best bring an original or a print or poster for this one! Please phone or email me to let me know if you plan on attending. Please bring the usual small amount of nibbles - thanks.
On Mon 24th Sep at 8.00pm - 3MOTM
Watford on Monday 24th at 8.00pm: Pub meeting – hosted by David Seddon King's Head, Bridge Road, Hunton Bridge WD4 8RE. Please look for a Mensa group in the garden! And the Magazine on the bench. This may be our last one at the King's Head - and meet inside if raining. We get a good turn out to the pub meets and have a wide age range - come and say hi! New members are always warmly welcomed.
David Seddon
Contact [Email] or [Phone Number] for details
Editor's Bit at the Bottom
Hi – I hope you had a good Summer. The highlight of mine was a Baltic Cruise – stunning palaces in St Petersburg, disappointing commercialism in Tallinn, but the 55-mile approach to Stockholm through the archipeligo – wow! I'm back in the editor's chair for the next 8 months so please - write to me, send me your photos, event reviews, jokes, thoughts, ideas on what should go into Empress, what should come out . . . I'd love to hear from you.
Rosie Jefferson
Has SIGHT lost sight of you?
Are you 'lost'?
Knocking around the various parts of Mensa, I get to meet all sorts of people, from all sorts of places, with all sorts of things to say – some fascinating, some amusing, and some just downright puzzling!
One of the things I hear from time to time is along the lines, "you know, I'm a registered SIGHT Host - but I haven't heard from anyone for a long time."
While this sometimes comes from someone living in the middle of nowhere, where no-one ever thinks to go (always a shame, as some members live in incredibly beautiful and /or interesting places), it is more often heard from members who registered as a SIGHT Host some time ago (sometimes decades ago) and have never done anything more about it - or used SIGHT - since. One chap had lapsed from membership for some years and didn't realise that his SIGHT Host registration would not automatically be regenerated when he came back.
As with most 'jobs' in Mensa, SIGHT Coordinators are ordinary members who volunteer to help out, where and while they can. They change from time to time and may have varying resources /abilities to maintain records as fully or as accurately as they might like. As a result, despite the best of intentions, information can become scrambled over time, resulting in the loss of some records.
As well as administering SIGHT in the UK, I'm trying to encourage its use - not only when travelling abroad, but also when away from home in one's own country – so we always need hosts, and we certainly don't want to lose anyone who has already volunteered!
If you are someone who thought you were registered as a SIGHT Host but you have not heard from SIGHT for some time, it may be that you have slipped through the net - and we won't know that we don't know about you until you say something (if you see what I mean). Please get in touch as soon as you can. We can then confirm whether or not we have you listed, and update any details we may hold about you.
If you think you might like to host travelling members from far away (and I've made some great friends this way), or just want some information about SIGHT, we'd love to hear from you too!
Peter Baimbridge British SIGHT Coordinator email: sight@mensa.org.uk tel/fax: [Phone Number] home: [Phone Number]
Cartoon Corner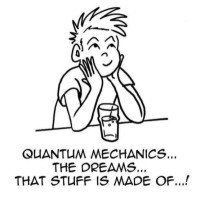 David Seddon, Watford LocSec, shares this first in a series of his cerebral cartoons.
Do you have any cartoons you'd like to share? If so please send them to the Empress editor (currently [Email])
Putting the FUN into FUNdraising
by Maxine Bates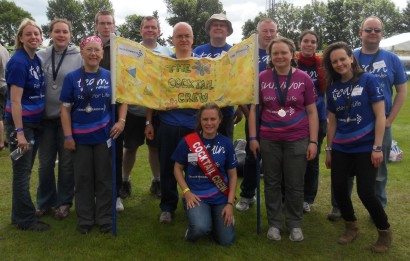 Cocktail Crew 2012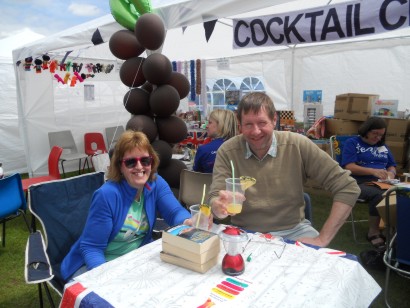 Jackie and Alistair at the Cocktail Crew Bar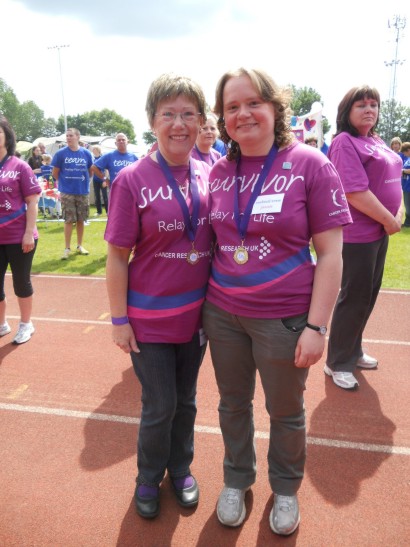 Bucket collection at Tesco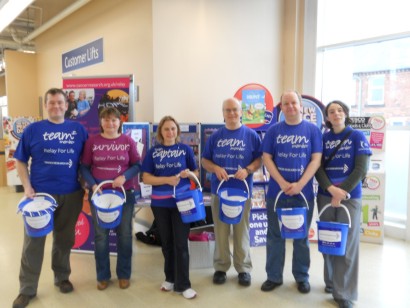 Janet and Jennie
A team of Mensans from Notts, Derbys, Lincs, London, Preston, The Wirral and Dublin took part in Nottingham Relay For Life 14th/15th July in aid of Cancer Research UK. At the time of writing donations are still coming in but we're set to reach our target of £5,000. Thanks to everyone who has supported our various fundraising events throughout the year and who came to visit us at our 24 hour Relay For Life event.
20 Questions (No. 132)
Just five entries for the July competition from Patrick Cavanagh of Mullingar, Chris Lonsbrough of Milton Keynes, Michael Warren of Derby, David Crozier of St Albans and Pamela Covey of Woburn. Winner of the £10 book token is David. If you're wondering the answers were Bingo, Chicago, D.I.S.C.O, Idaho, Juno, Legs & Co, Logo, Mojo, Mongo, Joshua Nkomo, Oh No!, Duke Orsino, Polo, Pongo, Quarto, Sarko, Solo, Tesco, Tomato and Verso.
Will this month's quiz prove too easy or too difficult? If you suffer from one of these conditions, you are afraid of what?
Send your answers by 20th September to '20 Questions (No. 132)', [Address]
1. Aichmophobia
2. Ailurophobia
3. Chaetophobia
4. Chemophobia
5. Chiroptophobia
6. Coulrophobia
7. Decidophobia
8. Ergophobia
9. Frigophobia
10. Gephyrophobia
11. Glossophobia
12. Hippopotomonstrosesquipedaliophobia
13. Mysophobia
14. Nomophobia
15. Omphalophobia
16. Phobophobia
17. Spectrophobia
18. Stygiophobia
19. Thalassophobia
20. Tokophobia